Newsroom
News, resources and content about The Retreat, its programs, community and life in recovery. As a part of our commitment to offering continual support for those in need, we are dedicated to providing helpful resources, in depth information, and unique opportunities to experience during your recovery path. Check here for the most up to date news and media regarding The Retreat and our mission of sobriety.
SHE RECOVERS® Foundation & The Retreat Join Forces to Break Barriers For Recovering Women
(Sante Fe, Nuevo México) – La Fundación SHE RECOVERS®, una organización líder dedicada a apoyar a las mujeres en recuperación o que buscan la recuperación, y The Retreat, un renombrado centro de recuperación de adicciones sin fines de lucro, se enorgullecen en anunciar una asociación integrada destinada a romper las barreras de la recuperación para las mujeres que buscan ayuda para la adicción, conectándolas con soluciones de recuperación individualizadas y empoderándolas en sus viajes de curación.
The Retreat celebrates 25 years opening doors to recovery
Innovative center for addiction recovery has served 30,000 individuals and families
June 21, 2023 (WAYZATA, Minn.) – The Retreat, the Wayzata, Minn.-based continuum of care that provides recovery services, programs and community resources to individuals and families dealing with substance use disorder, marks its 25th anniversary on Wednesday, June 21.
The Retreat's John Curtiss receives Venerable Order of Talbot Award
Every year, The Venerable Order of Talbot Award celebrates leaders in the recovery community, honoring those whose commitment, advocacy and innovation make a real difference in the treatment and recovery services field. Curtiss is a longtime leader in supporting those who struggle with substance use – in addition to founding The Retreat in 1998, he also spent 20 years in leadership roles at the Hazelden Betty Ford Foundation.
Human Development Magazine
FAMILIES IN ADDICTION RECOVERY: FINDING OUR WAY BACK TO "WE"
A Family Problem Requires A Family Solution
by Sherry Gaugler-Stewart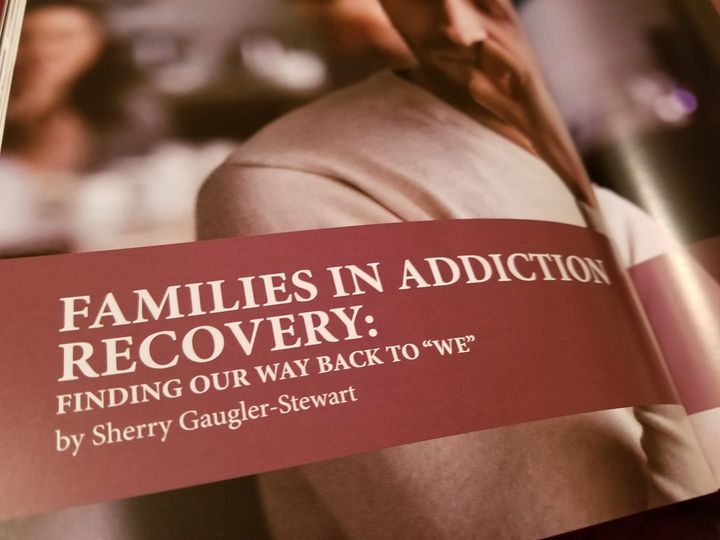 Sherry Gaugler-Stewart is the Director of Family and Spiritual Recovery at The Retreat in Wayzata, MN. She has worked with The Retreat's Family Program since its inception in 2005. Sherry is a trained spiritual director, a certified Structured Family Recovery (SRF) Counselor, and has been an active participant in 12 Step family recovery since 1999. In addition to her work with the Family Program, she has led spiritual retreats and workshops internationally, and is a meditation teacher. She speaks on the topic of family recovery regionally and nationally, as well as contributes to blogs and publications. She also oversees Kids CAMP at The Retreat, a program for children aged 7 - 12 years who are growing up in families impacted by someone's addiction.
Love First: 12 Step Immersion with John Curtiss
The Hidden Crisis - COVID and Recovery
Recovery Night - Wild vs Flames
Social isolation, while an important tool in fighting a pandemic, has been rough on the Minnesota's recovery movement.
Key trends and statistics for women and substance use.
$10.5 million project provides space, services geared to women in recovery
Sun Sailor featured The Retreat in its latest issue!
Exciting news at The Retreat!
We have been selected as a Minnesota Recovery Core site for the 2017-18 year.
See below to learn more about this NEW opportunity and how you could work at The Retreat!
Experience life-changing growth. Become a Minnesota Recovery Corps Navigator.
Interested in helping others in recovery reach their goals and build on their success? Become a Recovery Navigator! Minnesota Recovery Corps is now accepting applications for full-time positions, starting in September.
Minnesota Recovery Corps is a new program designed specifically for people with direct or indirect experience in recovery to serve other individuals who are trying to sustain their own recovery. Recovery Corps members will work with both teens and adults in recovery in a variety of locations in the Twin Cities. Recovery Corps members are not sponsors or counselors, but mentors who understand the journey of recovery. They will focus on helping individuals reach their goals that can help build and sustain the great experiences that a life in recovery can bring.
Pass the word on to a friend or family member! Positions for the 2017-18 program year being in September. Learn more and apply today!
Questions before you apply? Contact Alana Stimes, Program Director, at alana.stimes@servetogrow.org.
Click Here For More Information Click Here for a Position Description
Recovery Campus Magazine featured The Retreat in its latest issue!
A presentation by Judge Floerke encouraging us to see ourselves as part of a compassionate presence for those who are struggling and challenging us to grapple with our own need for renewal.
MinnPost covers The Retreat's philosophies, programs, and scholarship opportunities.
John Curtiss discusses his pursuit of creating an alternative to traditional treatment programs focused on accessibility, affordability and effectiveness in supporting long-term addiction recovery.
SAINT PAUL, July 22, 2016 — The Otto Bremer Trust today announced a $250,000 grant with an additional $250,000 matching grant for the next calendar year to The Retreat, Wayzata, Minnesota, to provide scholarships for those seeking assistance with alcohol and drug dependency in Bremer Bank communities in Minnesota for the 2016 calendar year and North Dakota and western Wisconsin for the 2017 calendar year.
Sherry Gaugler-Stewart shares insights on the underlying issues of youth substance use on the blog Our Young Addicts.
Andrea Bruner discusses gender differences in addiction and recovery with WCCO's Esme Murphy.
John Curtiss, president of Wayzata-based chemical dependency program The Retreat, said the nonprofit this year is offering at least $260,000 in scholarships to serve additional individuals and families.
The Retreat has been offering recovery programs for more than 17 years. Programs include residential, non-residential, Older Adult programs, long-term sober living, weekend retreats, family programs and more.
John Curtiss discusses The Retreat's scholarship fund, which allows people to access recovery that is grounded in the traditions of the 12 Steps
Funds Supplement $250,000 Provided by Otto Bremer Foundation in 2015
Furthering efforts begun last year through a $250,000 grant from the Otto Bremer Foundation, The Retreat, a Twin Cities-based peer-to-peer addiction recovery program, has made $260,000 in scholarship funds available in 2016 to those seeking recovery services.
Thanks to a grant from the Otto Bremer Foundation, The Retreat, a Twin Cities-based peer-to-peer addiction recovery program, has made $250,000 in scholarship funds available in 2015 to individuals and families within outstate Minnesota who seek recovery services. Having served 63 individuals thus far using scholarship funds, approx. $50,000 is still available for those who apply by Nov. 12, 2015.
Listen to an exclusive interview with John Curtiss about the Bremer Scholarship.
Watch the Kare11 Segment | Read our Great Review from Renew Magazine!
The Retreat received a $250,000 grant from the Otto Bremer Foundation, making residential recovery services more accessible than ever. This grant will be used to provide scholarships to the residents of Greater Minnesota for whom finding traditional addiction recovery treatment can often be challenging. Our mission is to keep addiction recovery affordable, and with this grant we are able to remove yet another barrier between our clients and the help that they need.
Addiction recovery is a lifelong process. Sometimes finding the extra support you need is difficult, especially when you are finding sobriety a challenge or are in need of friend who understands. The Retreat's Older Adults Program offers this chance for community and encouragement to people over 60 who have been addicted to drugs and alcohol and who are looking start a new chapter in their lives.
Nestled in Wayzata, MN, The Retreat is a supportive educational center that has been rebuilding lives for over 15 years. Instead of running expensive assessments and offering medical treatments, The Retreat focuses on community and education as ways to create a better future for one's self.