Women in Recovery
Our backgrounds are unique, our stories vary, and our programs may differ, but we are all women in recovery and we come together to heal, transform, and connect.

"The mission of Women in Recovery is to create a caring community that provides education and spiritual growth opportunities for women in 12-step recovery programs."

Join us each month as we nurture, renew, and transform not only our programs but our lives.
---
Women in Recovery Speaker Series
The 2022 Fourth Wednesday Speaker Series will meet in person at Hennepin Avenue United Methodist Church and continue to be available on Zoom. Please check speaker information here and at https://www.facebook.com/WomenInRecoveryMN/ for updates.
We are so grateful to come together, once again, in fellowship.
Meeting place:
Hennepin Avenue United Methodist Church
511 Groveland Ave, Minneapolis, MN 55403
(Ample parking in the main lot behind the church)
Greeters at the door will guide you to the meeting space. We hope to see you for an evening of inspiration and fellowship!
Online:
Zoom ID: 935-0755-8272 Password: 259602
September 28, 2022, 7:00 PM CT
The Enneagram (Part 1): Celebrating What Is Right About You
by hil GebbenGreen
This is a two-part series. Next month's topic will be The Enneagram: Freeing Ourselves from the Prisons of Our Own Making.
What if there is nothing wrong with you? The Enneagram is a psychological and spiritual tool that helps us see what is powerfully right about ourselves. By studying the nine Enneagram Types and finding our home-base pattern, we can begin to understand and accept why we do what we do, finding the freedom to truly be ourselves.
Click here for more information and for handouts.
Click Here for Our 2022 Speaker Series Flyer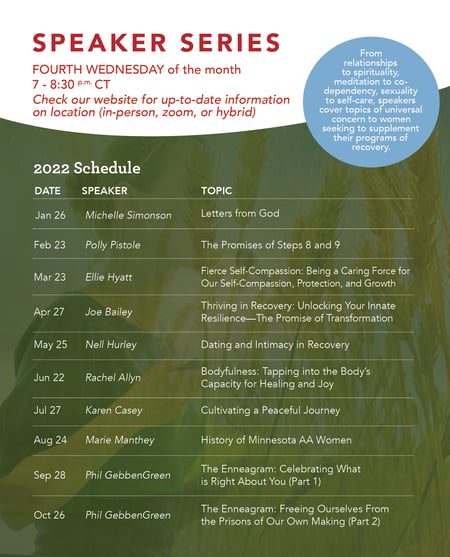 ---
Women in Recovery Book Groups
We now meet virtually on the 2nd Thursday of the month. Please join other women in recovery for lively book discussion and fellowship!
Click Here for Our 2022 Book Groups Flyer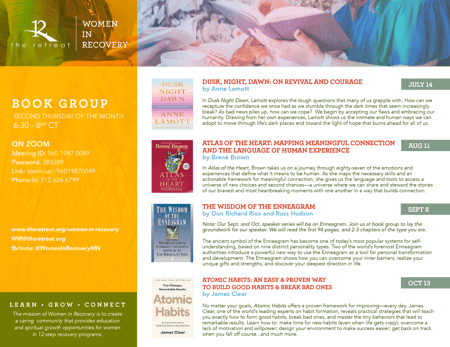 Virtual Meeting Information
Meeting URL: https://zoom.us/j/96019870049
Phone Call IN: 312-626-6799
Meeting ID: 93507558272
Password: 285289
October 13, 2022, 6:30-8 PM CT
Atomic Habits: An Easy & Proven Way to Build Good Habits & Break Bad Ones
by James Clear
No matter your goals, Atomic Habits offers a proven framework for improving—every day. James Clear, one of the world's leading experts on habit formation, reveals practical strategies that will teach you exactly how to form good habits, break bad ones, and master the tiny behaviors that lead to remarkable results.

If you're having trouble changing your habits, the problem isn't you. The problem is your system. Bad habits repeat themselves again and again not because you don't want to change, but because you have the wrong system for change. Here, you'll get a system that can take you to new heights.

Clear is known for his ability to distill complex topics into simple behaviors that can be easily applied to daily life and work. In Atomic Habits, he draws on proven ideas from biology, psychology, and neuroscience to create an easy-to-understand guide for making good habits inevitable and bad habits impossible. Along the way, readers will be inspired and entertained with true stories from Olympic gold medalists, award-winning artists, business leaders, life-saving physicians, and star comedians who have used the science of small habits to master their craft and vault to the top of their field.

Atomic Habits will reshape the way you think about progress and success, and give you the tools and strategies you need to transform your habits—whether you are a team looking to win a championship, an organization hoping to redefine an industry, or simply an individual who wishes to quit smoking, lose weight, reduce stress, or achieve any other goal.
We will pause the WIR Book Group in 2023. It will no longer meet on the second Thursday of the month.
---
For More Events, Please Check our Calendar of Events.