Women in Recovery
Our backgrounds are unique, our stories vary, and our programs may differ, but we are all women in recovery and we come together to heal, transform, and connect.

"The mission of Women in Recovery is to create a caring community that provides education and spiritual growth opportunities for women in 12-step recovery programs."

Join us each month as we nurture, renew, and transform not only our programs but our lives.
---
Women in Recovery Speaker Series
Our Speaker Series is held on the FOURTH WEDNESDAY of the month between January and October at the National Center for Women's Recovery at The Retreat. From relationships to spirituality, meditation to co-dependency, sexuality to self-care, speakers cover topics of universal concern to women seeking to supplement their programs of recovery. Refreshments and fellowship begin at 6:30 p.m., followed by the program at 7 p.m.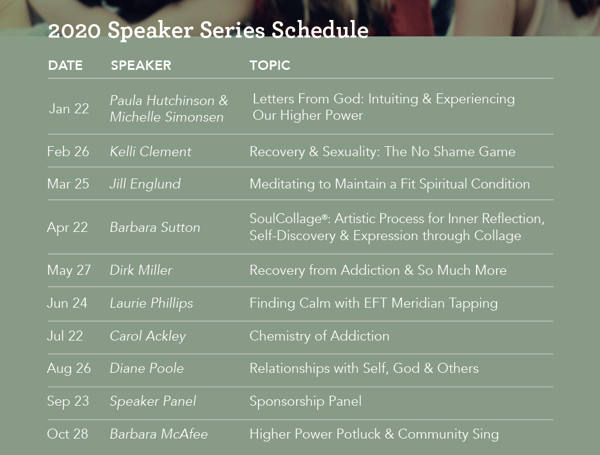 January 22, 2020
LETTERS FROM GOD: INTUITING & EXPERIENCING OUR HIGHER POWER
Paula Hutchinson & Michelle Simonsen.
Women in Recovery will start the new year with what has become a tradition—intuiting and experiencing our personal Letters from God. Paula Hutchinson and Michelle Simonsen will be back to lead us through this powerful spiritual practice.
Join us as our journey into the Great Reality continues—healing our past and blessing our future
February 26, 2020
RECOVERY & SEXUALITY: THE NO SHAME GAME
Kelli Clement.
Join us as we safely dive into the topic of sexuality in the context of recovery. Rev. Kelli Clement will lead us through an honest, respectful and compassionate conversation where we will:
Discuss how addiction and sexuality are particularly intertwined for women
Explore ways that our relationship to self-image, self-esteem, and sexuality change in recovery
Imagine ways healthy sexual expression can help support our recovery and spiritual maturity
March 25, 2020
Jill Englund.
Meditating to Maintain a Fit Spiritual Condition
April 22, 2020
Barbara Sutton.
SoulCollage®: Artistic Process for Inner Reflection, Self-Discovery & Expression through Collage
May 27, 2020
Dirk Miller.
Recovery from Addiction & So Much More
Jun 24, 2020
Laurie Phillips.
Finding Calm with EFT Meridian Tapping
Jul 22, 2020
Carol Ackley.
Chemistry of Addiction
Aug 26, 2020
Diane Poole.
Relationships with Self, God & Others
Sep 23, 2020
Speaker Panel.
Sponsorship Panel
Oct 28, 2020
Barbara McAfee.
Higher Power Potluck & Community Sing
---
Women in Recovery Book Groups
Our Book Groups meet in Wayzata on the SECOND WEDNESDAY of each month and in St. Paul on the SECOND THURSDAY of each month from 6:30-8:00 pm between January and October.

Join other women in recovery for lively book discussion and fellowship!
February 12th, 2020
Stop Being Mean to Yourself
by Melody Beattie.
Most of us tend to think of the second half of life as largely about getting old, dealing with health issues, and letting go of life, but the whole thesis of this book is exactly the opposite. What looks like falling down can largely be experienced as "falling upward." This important book explores the counterintuitive message that we grow spiritually much more by doing wrong than by doing right.
The Retreat
1221 Wayzata Blvd E, Wayzata, MN 55391
February 13th, 2020
Raising Robert
by Janet Favorite.
Raising Robert explores the emotional impacts that families experience when they parent a Special Needs child with Prader-Willi Syndrome. The book tells of how people with the syndrome are now living a fuller richer life when mental and physical needs are addressed. "An inspiring story that affirms the hope of opportunity that comes from the challenge of adversity." - William Moyers
The Retreat St. Paul
949 Grand Ave, St. Paul, MN 55105
---
For More Events, Please Check our Calendar of Events.