Women in Recovery
Our backgrounds are unique, our stories vary, and our programs may differ, but we are all women in recovery and we come together to heal, transform, and connect.

"The mission of Women in Recovery is to create a caring community that provides education and spiritual growth opportunities for women in 12-step recovery programs."

Join us each month as we nurture, renew, and transform not only our programs but our lives.
---
Women in Recovery Speaker Series
Our Speaker Series is held on the FOURTH WEDNESDAY of the month between January and October at the National Center for Women's Recovery at The Retreat. From relationships to spirituality, meditation to co-dependency, sexuality to self-care, speakers cover topics of universal concern to women seeking to supplement their programs of recovery.
Due to COVID-19, our Speaker Series is meeting virtually on Zoom until further notice
Click Here for Our 2021 Speaker Series Flyer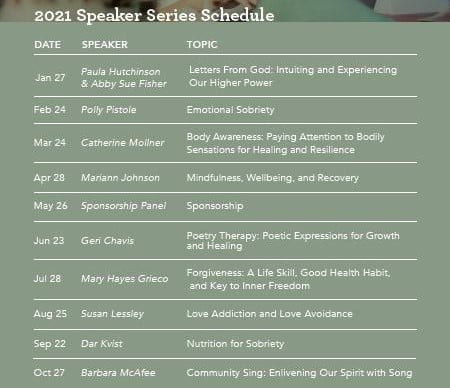 Wednesday, April 28, 2021 from 7-8:30 PM
MINDFULNESS, WELLBEING, AND RECOVERY
with Mariann Johnson
A growing body of research points to the numerous benefits of mindfulness practice. Studies indicate that mindfulness can enhance emotional and physical wellbeing, resilience, and relationships, as well as help with healing from addictive behaviors. This experiential session will introduce you to mindfulness and highlight the work of researcher Judson Brewer, M.D., PhD, and his groundbreaking book, The Craving Mind.
Virtual Meeting Information
Meeting URL: https://zoom.us/j/93507558272
Phone Call IN: 312-626-6799
Meeting ID: 93507558272
Password: 259602

---
Women in Recovery Book Groups
Due to the ongoing need to gather virtually, WIR has consolidated our Book Groups. We now will meet virtually on the 2nd Thursday of the month through 2021.
Join other women in recovery for lively book discussion and fellowship!
Thursday, May 13, 2021 from 6:30-8 PM
UNTAMED
by Glennon Doyle
We strive so mightily to be good: good partners, daughters, mothers, employees, and friends. We hope all this striving will make us feel alive. Instead, it leaves us feeling weary, stuck, overwhelmed, and underwhelmed. Doyle explores the joy and peace we discover when we stop striving to meet others' expectations and start trusting the voice deep within us.
Virtual Meeting Information
Meeting URL: https://zoom.us/j/96019870049
Meeting Password: 285289
If you'd rather call into the meeting:
Phone Call IN: 312-626-6799
Meeting ID: 96019870049
We want to hear from you! We use group conscience to pick our reading materials. If there is a book you've always wanted to read, please submit your thoughts to our email at wir@theretreat.org.
When proposing books, please consider the following criteria:
Books should be 300 pages or less.

Books should relate to spiritual growth, and in a positive manner to recovery, specifically 12-Step programs. Texts that disparage a particular faith tradition or recovery approach are not appropriate for this setting.

In order to ensure an open discussion, books should not be authored by attendees.
Voting of the submitted choices will be done next during our May book groups. Hope to see you there!
---
For More Events, Please Check our Calendar of Events.