Women in Recovery
Our backgrounds are unique, our stories vary, and our programs may differ, but we are all women in recovery and we come together to heal, transform, and connect.

"The mission of Women in Recovery is to create a caring community that provides education and spiritual growth opportunities for women in 12-step recovery programs."

Join us each month as we nurture, renew, and transform not only our programs but our lives.
---
Women in Recovery Speaker Series
Our Speaker Series is held on the FOURTH WEDNESDAY of the month between January and October at the National Center for Women's Recovery at The Retreat. From relationships to spirituality, meditation to co-dependency, sexuality to self-care, speakers cover topics of universal concern to women seeking to supplement their programs of recovery.
Due to COVID-19, our Speaker Series is meeting virtually on Zoom until further notice
Click Here for Our 2021 Speaker Series Flyer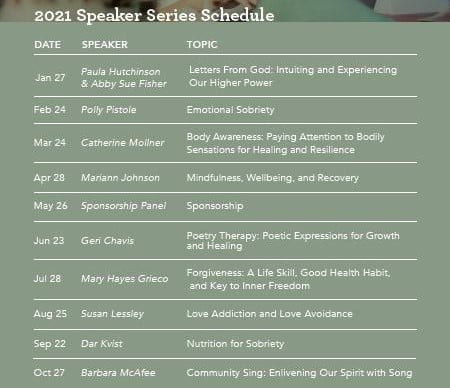 October 27, 2021, 7-8:30 PM CST
HARVESTING CONNECTION & JOY THROUGH MUSIC
with Barbara McAfee
Join Women in Recovery for an intimate concert-conversation celebrating recovery, shared journeys, and the joy of being alive. Steeped in themes of community and connection, Barbara McAfee will share her voice of poignancy and clarity, and her enchanting spirit to cap off our 2021 Speaker Series.

Barbara McAfee is a master voice coach, author, keynote speaker, and singer/ songwriter who merges lessons from 12 years in organization development with the transformative power of sound. Her book, Full Voice, is based on her 25-plus years as a voice coach, supporting people from many professions to find their voice, whatever that means to them.

Barbara has produced eight CDs of mostly original music and is founder of the Morning Star Singers, a volunteer hospice choir in the Twin Cities. Barbara lives on the wild and scenic St. Croix River in St. Croix Falls, Wisconsin. Learn more about Barbara at barbaramcafee.com
Virtual Meeting Information
Meeting URL: https://zoom.us/j/93507558272
Phone Call IN: 312-626-6799
Meeting ID: 93507558272
Password: 259602
---
Women in Recovery Book Groups
Due to the ongoing need to gather virtually, WIR has consolidated our Book Groups. We now will meet virtually on the 2nd Thursday of the month through 2021.
Join other women in recovery for lively book discussion and fellowship!
Thursday, October 14, 2021 from 6:30-8 PM CST
FROM STRESS TO STILLNESS: TOOLS FOR INNER PEACE
by Gina Lake
Most stress is created by how we think about things. From Stress to Stillness will help you to examine what you're thinking and change your relationship to your thoughts so that they no longer result in stress. Drawing from the wisdom traditions, mindfulness meditation, psychology, New Thought, and the author's own experience as a spiritual teacher and counselor, this book offers many practices and suggestions that will lead to greater peace and equanimity, even in a busy and stress-filled world.
Virtual Meeting Information
Meeting URL: https://zoom.us/j/96019870049
Meeting Password: 285289
If you'd rather call into the meeting:
Phone Call IN: 312-626-6799
Meeting ID: 96019870049
We want to hear from you! WIR uses group conscience to pick our reading materials. If there is a book you've always wanted to read (or one you think everyone should!), please submit your suggestions to our email at wir@theretreat.org. Please use Book Group in the subject title.
When proposing books, please consider the following criteria:
Books should be 300 pages or less.

Books should relate to spiritual growth, and in a positive manner to recovery, specifically 12-Step programs. Texts that disparage a particular faith tradition or recovery approach are not appropriate for this setting.

In order to ensure an open discussion, books should not be authored by attendees.
Voting on the submitted choices will be done on October 14th. Since we are on hiatus in November and December, the books chosen will be read in January, February, and March 2022.
---
For More Events, Please Check our Calendar of Events.