Women in Recovery
Our backgrounds are unique, our stories vary, and our programs may differ, but we are all women in recovery and we come together to heal, transform, and connect.

"The mission of Women in Recovery is to create a caring community that provides education and spiritual growth opportunities for women in 12-step recovery programs."

Join us each month as we nurture, renew, and transform not only our programs but our lives.
---
Women in Recovery Speaker Series
Our Speaker Series is held on the FOURTH WEDNESDAY of the month between January and October at the National Center for Women's Recovery at The Retreat. From relationships to spirituality, meditation to co-dependency, sexuality to self-care, speakers cover topics of universal concern to women seeking to supplement their programs of recovery. Refreshments and fellowship begin at 6:30 p.m., followed by the program at 7 p.m.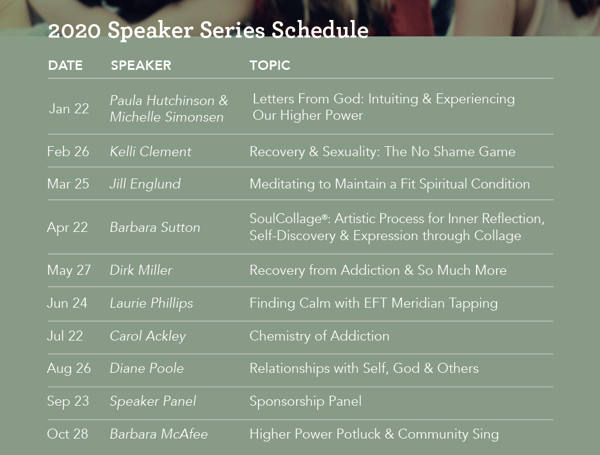 March 25, 2020
Guided Meditation: Maintaining A Fit Spiritual Condition
(SUSPENDED)
Jill Englund.
Meditation is one key to understanding, obtaining and maintaining what the Big Book of Alcoholics Anonymous calls "a fit spiritual condition." We'll use breath work, imagery and creative visualization to demystify meditation and meditative practice, culminating with a guided meditation that will give participants a firsthand experience.
April 22, 2020
Barbara Sutton.
SoulCollage®: Artistic Process for Inner Reflection, Self-Discovery & Expression through Collage
May 27, 2020
Dirk Miller.
Recovery from Addiction & So Much More
Jun 24, 2020
Laurie Phillips.
Finding Calm with EFT Meridian Tapping
Jul 22, 2020
Carol Ackley.
Chemistry of Addiction
Aug 26, 2020
Diane Poole.
Relationships with Self, God & Others
Sep 23, 2020
Speaker Panel.
Sponsorship Panel
Oct 28, 2020
Barbara McAfee.
Higher Power Potluck & Community Sing
---
Women in Recovery Book Groups
Our Book Groups meet in Wayzata on the SECOND WEDNESDAY of each month and in St. Paul on the SECOND THURSDAY of each month from 6:30-8:00 pm between January and October.

Join other women in recovery for lively book discussion and fellowship!
April 8th, 2020
(Suspended)

This Naked Mind: Control Alcohol, Find Freedom, Discover Happiness and Change your Life
by Annie Grace.
We live in a world obsessed with drinking. As a society, we are obsessed with health and wellness, yet we uphold alcohol as some kind of magic elixir, though it is anything but. When Whitaker decided to seek help after one too many benders, she embarked on a journey that led not only to her own sobriety, but revealed the insidious role alcohol plays in society and in the lives of women in particular.
The Retreat
1221 Wayzata Blvd E, Wayzata, MN 55391
April 9th, 2020
(Suspended)

The Untethered Soul
by Michael Singer.
This gripping, heart-breaking and witty book takes us down the rabbit-hole of an alternative reality. A life with zero hangovers, sober weddings, sex, Christmases and breakups. In The Unexpected Joy of Being Sober, Catherine Gray shines a light on society's drink-pushing and talks to top neuroscientists and psychologists about why we drink, delving into the science behind what it does to our brains and bodies.
The Retreat St. Paul
949 Grand Ave, St. Paul, MN 55105
---
For More Events, Please Check our Calendar of Events.