Women in Recovery
Our backgrounds are unique, our stories vary, and our programs may differ, but we are all women in recovery and we come together to heal, transform, and connect.

"The mission of Women in Recovery is to create a caring community that provides education and spiritual growth opportunities for women in 12-step recovery programs."

Join us each month as we nurture, renew, and transform not only our programs but our lives.
---
Women in Recovery Speaker Series
The 2022 Fourth Wednesday Speaker Series will utilize hybrid meeting options. We will meet both in-person at The Retreat and virtually on Zoom. Please check speaker information here and on https://www.facebook.com/WomenInRecoveryMN/ for updates.
Due to COVID-19, our Speaker Series is meeting virtually on Zoom until further notice
Click Here for Our 2022 Speaker Series Flyer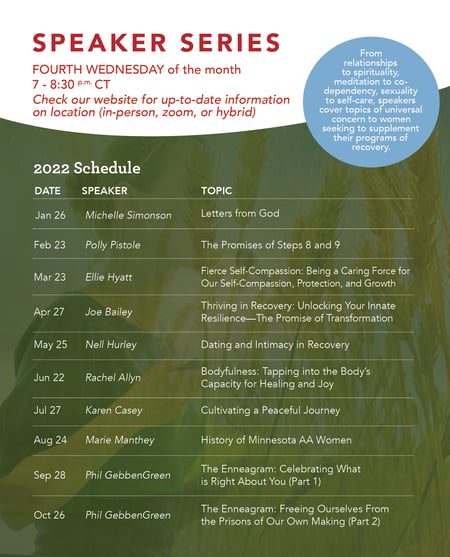 May 25, 2022, 7-8:30 P.M., CT
"To Thine Own Self Be True": Dating and Intimacy in Recovery
by Nell Hurley
Nell addresses the necessary elements of healthy dating and intimacy in recovery. She draws on her own experiences of struggling with relationships in early (and not so early) sobriety, and how she practices connecting deeply with herself and her Higher Power to connect with others.
Participants will learn:
The role self-awareness plays in healthy dating and intimacy.
The importance of setting boundaries while dating in recovery.
How identifying your values empowers you to attract safe, healthy experiences around dating and intimacy in recovery.
NELL HURLEY is a woman in long-term recovery. Her sobriety date is December 27,1997, and she's been an active member of AA since that day.

She served as executive director of Minnesota Recovery Connection from 2010 to 2014 where she co-created the Recovery Coach Academy to train peer recovery coaches throughout Minnesota. She also served as the director of Alumni Relations at the Hazelden, Betty Ford Foundation, and as a national director for The Phoenix, a nonprofit that builds recovery communities through fitness. Today Nell serves as a consultant for SAMHSA's national Peer Recovery Center of Excellence and helps build Recovery Oriented Systems of Care in the State of Illinois. Nell is the founder of Hurley Health, where she combines fitness and recovery coaching to help people achieve long-term recovery from substance use disorders.
Click here for more information
Virtual Meeting Information
Meeting URL: https://zoom.us/j/93507558272
Phone Call IN: 312-626-6799
Meeting ID: 93507558272
Password: 259602

---
Women in Recovery Book Groups
Due to the ongoing need to gather virtually, WIR has consolidated our Book Groups. We now will meet virtually on the 2nd Thursday of the month through 2022.
Join other women in recovery for lively book discussion and fellowship!
Click Here for Our 2022 Book Groups Flyer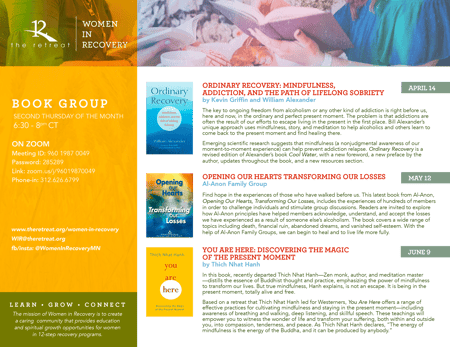 Virtual Meeting Information
Meeting URL: https://zoom.us/j/96019870049
Phone Call IN: 312-626-6799
Meeting ID: 93507558272
Password: 285289
Thursday April 14, 2022, 6:30-8 PM CST
Ordinary Recovery: Mindfulness, Addiction, And the Path of Lifelong Sobriety
by Kevin Griffin and William Alexander
The key to ongoing freedom from alcoholism or any other kind of addiction is right before us, here and now, in the ordinary and perfect present moment. The problem is that addictions are often the result of our efforts to escape living in the present in the first place. Bill Alexander's unique approach uses mindfulness, story, and meditation to help alcoholics and others learn to come back to the present moment and find healing there. Emerging scientific research suggests that mindfulness (a nonjudgmental awareness of our moment-to-moment experience) can help prevent addiction relapse. Ordinary Recovery is a revised edition of Alexander's book Cool Water, with a new foreword, a new preface by the author, updates throughout the book, and a new resources section.
Thursday May 12, 2022, 6:30-8 PM CST
Opening Our Hearts, Transforming Our Losses
Al-Anon Family Group
Find hope in the experiences of those who have walked before us. This latest book Opening Our Hearts, Transforming Our Losses, from Al-Anon includes the experiences of hundreds of members in order to challenge individuals and stimulate group discussions. Readers are invited to explore how Al-Anon principles have helped members acknowledge, understand, and accept the losses we have experienced as a result of someone else's alcoholism. The book covers a wide range of topics including death, financial ruin, abandoned dreams, and vanished self-esteem. With the help of Al-Anon Family Groups, we can begin to heal and to live life more fully.
Thursday June 9, 2022, 6:30-8 PM CST
You Are Here: Discovering the Magic of The Present Moment
by Thich Nhat Hanh
In this book, recently departed Thich Nhat Hanh—Zen monk, author, and meditation master—distills the essence of Buddhist thought and practice, emphasizing the power of mindfulness to transform our lives. But true mindfulness, Hanh explains, is not an escape. It is being in the present moment, totally alive and free. Based on a retreat that Hanh led for Westerners, You Are Here offers a range of effective practices for cultivating mindfulness and staying in the present moment—including awareness of breathing and walking, deep listening, and skillful speech. These teachings will empower you to witness the wonder of life and transform your suffering, both within and outside you, into compassion, tenderness, and peace. As Thich Nhat Hanh declares, "the energy of mindfulness is the energy of the Buddha, and it can be produced by anybody."
--

We want to hear from you! WIR uses group conscience to pick our reading materials. If there is a book you've always wanted to read (or one you think everyone should!), please submit your suggestions to our email at wir@theretreat.org. Please use Book Group in the subject title.

​When proposing books, please keep in mind:
Books should be 300 pages or less.
Books should relate to spiritual growth, and in a positive manner to recovery, specifically 12-step programs. Texts that disparage a particular faith tradition or recovery approach are not appropriate for this setting.
Please include the full title, author and a brief description of the book(s) you are suggesting.
Voting on the next round of submitted choices will be done on May 12th. The books chosen will be read in July, August, September, and October 2022.
---
For More Events, Please Check our Calendar of Events.