Women's Recovery Center
Recovery is grounded in the idea that together, we can accomplish what we cannot do alone. At The Retreat's Center for Womens Recovery, women help each other develop the spiritual skills they need to build new lives. To assist you on your path to recovery, it's important to understand your treatment options for substance use and how to move forward with a life of sobriety. That's why we've created The Retreat. Our experienced staff and volunteers help all of our participants better understand their addiction so they can continue to choose sobriety every day. We offer in-house programs, regular retreats, and workshops for a comprehensive approach to treatment and recovery.
What to Know About Substance Use
Close to 20 million American adults struggle with substance use. While many people who don't have problems with addiction find it hard to understand how or why people turn to substance use, it's considered a complex disease that requires treatment, support, and a focus on mental health hope and retreats. Addiction is serious and those who are affected by it should not be seen as lazy or degenerate. There is a terrible stigma that revolves around addiction and it's time for a change. We need to show our loved ones suffering from addiction love and support, not anger and disappointment. To help aid in recovery, it's imperative that we better understand what addiction is and how it affects an individual.
Addiction is a chronic disease where men and women seek out drugs, even though they know the harmful effects they have on their health. While the first few times of drug use is often done voluntarily, repeated substance use leads to problems with self-control and a person's self-esteem. Due to the highly addictive nature of drugs, the brain's chemistry begins to change and interferes with a person's ability to resist the urge to take drugs. This is how addiction begins. The brain is a powerful organ and when you experience chemical imbalances, it can cause you to act in ways outside of your character. As time continues, the body starts to rely on the drugs, and it can be both mentally and physically painful to stop. This is why drug addiction leads to so many relapses. The changes in brain chemistry can be persistent and last for years, so it's important to find a strong support group and seek the proper treatment. Difficulties with addiction can be worsened if they're co-occurring with other diseases or mental illnesses. However, there is hope. Addiction treatment has gotten progressively better over the years and now focuses on community involvement, individual treatment, and creating a sustainable life in recovery.
While treatment in the past heavily relied on asylums, institutions, and attempts to "cure" drug addiction, things have changed. Now, as we've come to better understand how certain aspects play a role in addiction treatment, recovery centers for women are becoming more prevalent and there's been a shift to focus on mental health and support services.
Addiction treatment has evolved to include programs that provide ongoing support for those struggling with substance use. It no longer uses outrageous methods to attempt to "cure" an individual of addiction, but instead, focuses on supporting individuals in a life of recovery.
We invite you to come inside for a virtual tour of the new Women's Center at The Retreat.
For More Information Download our Brochure
Addiction Treatment – Womens Alcohol Recovery Program
For years, addiction was seen as a disease that only affected men. However, as we've come to know, addiction can affect anyone. It can affect both men and women, adults, and children.

Unfortunately, there aren't as many well-known options for a women's alcohol recovery program or a women's drug recovery program. They seem to only be focused on men and we believe that keeping the recovery process separate is important. Men and women require different things and the mental health of each varies drastically. By opting for a targeted approach by having mental health retreats for women, you'll find more success and create a stronger foundation for a lifetime of sobriety. By pairing with experienced staff and volunteers, you'll pave the path for a life of recovery with an integrated community approach. This allows women to strengthen their daily habits and find happiness rooted outside of drug or alcohol dependency. The Retreat is committed to helping individuals, families, and communities affected by drug and alcohol dependency by providing affordable, effective, educational services that are grounded in the Twelve Step principles of Alcoholics Anonymous. Throughout the program, we introduce people who are motivated for change to those living a life of recovery at the highest level. This helps to create hope and inspire those who are still succumbing to their addiction. We strive to show everyone in our program that living a life of recovery is not only attainable, but it's also a wonderful way to live their lives.

Our guests discover the importance of creating strong, grounded connections with other like-minded individuals while practicing the Twelve Step principles of Alcoholics Anonymous. We aim to help those suffering from alcohol and substance use lead healthier, happier lives in sobriety.

Millions of women suffer from substance use each year so it's important to make sure that women's recovery options are available and accessible when needed. Addiction treatment for women is similar to treatment for men as it aims to provide support services and focuses on strengthening mental health. Choosing the right women's residential recovery center will help create the right environment for addiction treatment. If you're interested in finding a women's depression retreat center that can help supplement your recovery, contact The Retreat today.
The Importance of Women's Recovery
While men's recovery and women's recovery retreats are both instrumental in battling addiction, women are often at a higher risk for serious or fatal outcomes. Women are more likely to suffer from organ damage due to prolonged drug use and are more likely to relapse or experience strong cravings. Women are also more likely to end up in an emergency from an overdose or fatally overdose. Because of this, women's recovery is extremely important and should not be overlooked. If a woman has a co-occurring disease or disorder, addiction treatment needs to reflect that.

At The Retreat, we want to reduce the risk of relapse for both men and women. Since women are at a higher risk for serious or fatal outcomes, it's important to create a supportive environment that's conducive to living a life of sobriety. For the best success in recovery, it's important to find a women's drug recovery program that reflects the intricacies of facing addiction as a woman. The Retreat's approach helps to create an environment that promotes emotional and spiritual growth and helps those who are suffering from addiction create a solid connection to the recovery community. Our guests can utilize our daily schedule, local AA meetings, and the sober-living community to help undergo the personal changes required for sustainable recovery. We also offer mentoring and sponsorship to help deepen this process of change. Since all of our staff and volunteers have experienced similar paths, our community is deeply rooted in sharing past experiences and inspiring hope. If you are looking for a retreat for mental health near me that is dedicated to helping you recover from alcoholism or chemical dependency, contact The Retreat today.

The Retreat is located just 15 minutes west of downtown Minneapolis and is nestled in the Wayzata Big Woods. Our guests have the option of private or semi-private rooms alongside plenty of facilities for you to exercise and meditate. If you prefer being outside with nature, you can wander along the deer-tracked nature trails of the Big Woods that surround The Retreat's campus. We offer affordable sober programs that help bring together those who want a quality life of recovery.
Women Helping Women
Women's mental health retreat is grounded in the idea that together, we can accomplish things that cannot be done alone. Women helping women is a great way to help each other build new lives. With a combination of individual treatment and group programs, women's recovery becomes even stronger. At The Retreat's Center for Women's Recovery, our experienced staff and passionate volunteers provide an attractive and powerful expression of the spiritual principles in daily life.
Understanding Treatment Programs
At our women's recovery home, we firmly believe that any woman who is motivated to accept help can find long-lasting and meaningful recovery through the Twelve Steps. The Retreat provides a safe, supportive, and nurturing environment where women not only learn about the Steps but become integrated into the greater recovering community. While there are plenty of different types of women's recovery programs, we believe that community involvement and treatment groups are one of the best ways to help transition back into a healthy lifestyle.
Women Health Retreat
The Retreat offers recovery for both men and women. In our women's recovery center, we focus on treatment programs that are tailored to provide services that focus on health, spirituality, trauma healing, family problems, co-occurring disorders, women's recovery, and community living. We try to understand what led to substance use in the first place so that treatment can be focused on specific circumstances and improving mental health. Our facility offers women alcohol treatment services for alcohol abuse using the Twelve Step program, group discussions, and AA-approved literature.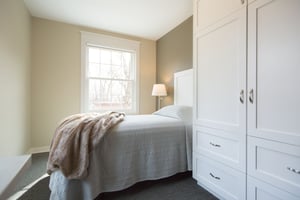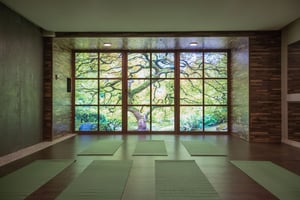 The Retreat Approach—Women's Recovery Center
The Retreat Wayzata MN Women's Recovery Center is staffed with experienced personnel and volunteers that aim to provide guidance and support to women seeking to establish a solid foundation of recovery that is grounded in the spiritual principles of Alcoholics Anonymous. Our women's recovery center philosophy is simple and straightforward—it relies heavily on an integrated community approach.
The Retreat helps introduce people who are seeking treatment to those living in recovery at the highest level to show them that a life of recovery is both attainable and attractive. Our services help to provide collective wisdom and experiences that complement women's recovery. Our success is largely based on our ability to involve a recovery community alongside necessary services that aid in day-to-day progress.
If you or someone you know needs help with substance use and depression retreats for women, please contact The Retreat's Women's Recovery Center today. While we do not offer medical, psychotherapy, or clinical treatment, we provide a supportive, educational recovery program to supplement treatment and help improve the quality of life for individuals, families, and communities affected by alcohol and drug dependency.
Women's Residential Recovery
The Retreat Minneapolis Women's Recovery Center creates an environment that promotes emotional and spiritual growth to improve mental health and help women establish a solid connection to the recovery retreats center community and the greater recovery community in the world. Through collective group services, our treatment plan allows women to share their experiences, strength, and hope with one another so they can learn to trust and understand the true nature of their illness and take the steps necessary to recover.
Our recovery center facilities are designed to maximize treatment, provide beneficial programs, and prioritize the health and safety of every individual enrolled. The day starts at 7:15 am with meditation practices before breakfast and continues throughout the day with lecture services, Big Book study programs, community meetings, AA meetings, and personal time for reflection. Lunch is served at 12:00 pm, Dinner at 5:30 pm, and the night is finished with a tenth-step group recovery session. The recovery programs for women at The Retreat focus on providing structure and support throughout the day that helps to improve the recovery process and encourage reintegration into society.
Guests at the Retreat's Women's Recovery Center will discover the importance of practicing the Twelve Step treatment program in their daily lives and gain a commitment to undergo personal changes that are so important to recovery. Mentorship and sponsorship help deepen the treatment and strengthen the process of change.
If you have a co-occurring disease, we recommend pairing our treatment program with medical or clinical treatment with a licensed professional. Our center is not a substitute for psychotherapy, medical, or clinical treatment.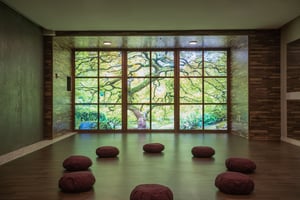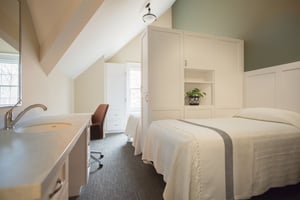 Finding a Recovery Center Near You
If you're looking for a women's mental health retreat near me that will help you live a fulfilling life in recovery, The Retreat is here to help. Our program is open to anyone in the country suffering from addiction and is conveniently located near a city that has thousands of active AA members attending meetings regularly.
At The Retreat recovery center, our mission is to improve the quality of life for individuals, families, and communities affected by alcohol and drug dependency by providing affordable, effective educational services grounded in the Twelve Step principles of Alcoholics Anonymous. We understand how desperate family members are to help their loved ones. If you have a loved one struggling with drugs and alcohol, contact us today. We can educate you on how to respond to the addiction and support them in ways that really help. If you're an individual looking for mental health retreat centers that will help improve your treatment, contact us today. The Retreat's Women's Recovery Center is here to help you take back your life and get the treatment you need to live a fulfilling life in recovery.