Evening Recovery Programs
The Evening Program is an 18-week alternative to traditional outpatient treatment for those who desire a Retreat experience but are not able to step away from the responsibilities of their daily lives. The Retreat's supportive and educational approach teaches the essentials of recovery established in the Twelve Steps. By applying these spiritual practices, participants develop an understanding of the effects of alcoholism and drug addiction in their lives and begin the process of recovery.
This program is ideal for:
Participants who are new to sobriety
Those desiring continuing support after a residential experience
Those seeking guidance and support after a relapse
"The Retreat's Evening Program taught me how to integrate the key tenants of Alcoholics Anonymous into my daily lives. Plus it gave me the chance to develop close relationships with people who are serious about living a fulfilling sober life."
-Spence M.
Enjoy a safe and supportive environment where people learn the skills necessary for long-term recovery. Participants will…
Receive in-depth exposure to the "design for living" outlined in the Big Book of Alcoholics Anonymous
Learn the necessary elements for a solid foundation of recovery
Establish a network of support
Learn to integrate the principles of recovery into their daily lives
Gain insights into their own thoughts and behaviors regarding addiction
Experience peer integration and support that fosters the accountability necessary in early recovery


---
Doug Anderson, MA, LADC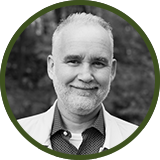 Director of Non-Residential Programs
Virtual Recovery Program , Evening Program & 55PLUS Program