Donor Recognition and Naming Opportunities
Lifetime Giving Wall
Donors with cumulative lifetime giving of $2,500 and above are recognized on annually-updated donor walls in the reception areas of the Men's Center and the National Center for Women's Recovery. All annual donors will be listed on an adjacent monitor.
Founder's Hall Tribute Tiles
In gratitude for donors' generous support during The Retreat's years of growth and construction, Tribute Tiles are available to those with cumulative 2017-2019 giving over $5,000. These custom-inscribed tributes will be placed in The Retreat's new community gathering room, Founder's Hall.
Cumulative 2017-2019 giving above $5,000 qualifies for a 4x8 inch Tribute Tile, and giving above $10,000 qualifies for an 8x8 inch Tribute Tile.
Founder's Hall is part of Phase 3 construction, which will begin upon completion of fundraising.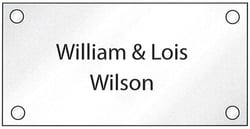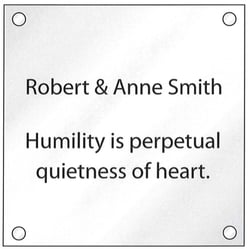 Naming Opportunities
Naming opportunities are available for leadership gifts to The Retreat. For additional information, please contact the Development Department at 952.476.0566.
Giving and Recognition Levels
Founder…....................$2,000,000
Visionary…...................$1,000,000
Heart…............................$500,000
Awakening…...................$250,000
Promise…........................$100,000
Love…................................$50,000
Service…............................$25,000
Hope…...............................$10,000
Fellowship…........................$5,000
Courage…............................$2,500
Spirit….................................$1,000
Community Support…...........$500
Community Tradition…..........$250
Community Partners…Up to $100