Alcohol Treatment Minneapolis Centers
If you're looking for a center for alcohol treatment, Minneapolis is one of the best places to be. There are a number of alcohol treatment centers and inpatient alcohol treatment programs in the Twin Cities area, but The Retreat is one of the best alternatives in the country. The Retreat offers a supportive, educational approach to recovery that's both affordable and effective. In conjunction with teaching recovery through the Twelve Steps, The Retreat has a time-tested approach to alcohol rehabilitation that has helped thousands of people from all over the world recover.

The Retreat is a transitional, self-governing sober living facility for both men and women. We provide close proximity to AA meetings, coffee houses, and employment opportunities so our residents can become fully immersed in the recovery community.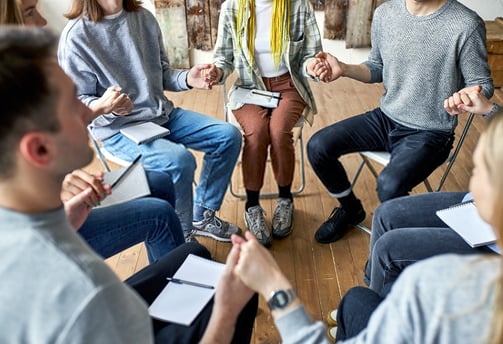 The Retreat's Approach to Alcohol Treatment Minneapolis
When people first learn about The Retreat, many ask how it differs from other alcohol treatment centers. We want to make sure that our incoming residents understand that The Retreat is not a clinical or medical treatment program—we're a supportive-educational environment that helps you strengthen your path to recovery. We provide an intensive orientation to the solution of recovery that's embodied in the Twelve Steps of Alcoholics Anonymous and serve both men and women who know they have the problem of alcoholism and/or drug dependency. Our residents need to be motivated to recover and physically and psychologically stable for the best results.

If you need a clinical or medical alcohol treatment, The Retreat is not the right fit for you. However, after medical treatment, you're welcome to come and enhance your road to recovery. From all of our guests we've housed 86% said that their quality of life had improved significantly after being at The Retreat.
Finding Alcohol Treatment Success
For successful alcohol treatment, Minneapolis recovering alcoholics and drug users recommend The Retreat as a cost effective alternative to traditional treatment facilities. Call us today to learn more about how The Retreat can help you down your road to recovery. If you don't think The Retreat is a good fit after talking with us, we'd be happy to help recommend another one of the many centers for alcohol treatment Minneapolis has to offer. We strive to help you on your path to recovery, however that may be.
The Retreat is not a replacement for medical treatment. We do not serve people who need a clinical treatment experience.