Minnesota Drug Rehab Centers
Minnesota drug rehab programs don't have to be expensive. The Retreat has developed an innovative and cost effective model to help people recover from alcoholism and drug dependency. This supportive educational approach has proven to be so effective that it is now being replicated in other communities throughout the United States and many other countries.
A typical drug rehab center uses a medical model approach, which is certainly appropriate for those needing this level of clinical intensity. But for those who know they have the problem and are motivated for help, this level of care may not be necessary. The Retreat's spiritual approach uses the Twelve Steps and the power of the community to help people recover from their alcoholism or chemical dependency.
There is a rich tradition of drug rehab in Minnesota. People have been coming here to get sober for over 74 years. The Twin Cities has one of the most vibrant recovering communities in the country. There are over 500 sober living beds in St. Paul alone. Most are within a few miles of each other. There is a level of accountability here that you just don't find in any other community in the country.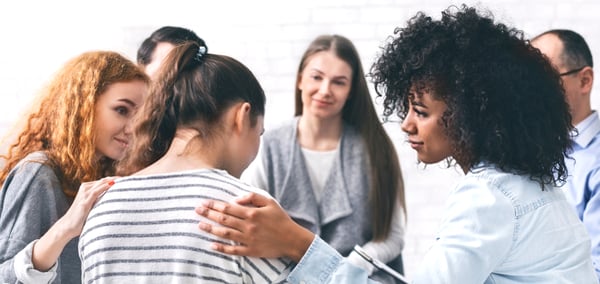 The Retreat harnesses the power of the vibrant recovering community of Minneapolis and St. Paul by using a network of over 400 volunteers to help carry the message of hope and recovery to our guests. Along with our experienced staff, these volunteers give guidance and support to people seeking to establish a firm foundation of recovery grounded in the Twelve Steps. We take people who are motivated for change, and surround them with those who are living recovery at the highest level.
"There is a special chemistry when one addict is helping another for fun and for free" said John Leonard, Director of Marketing at The Retreat. "These volunteers carry a message based on their own experience and they do it with passion and enthusiasm." Not only do they help keep the cost down, but they also serve as powerful examples of what a contented life in recovery can be like, and what it takes to recover. "There is an attitude of we are all in this together and you just don't find that in most drug rehab programs," said Leonard.
In a staff-based drug or alcohol rehab, you don't have the benefit of the collective wisdom available in a vibrant community-based approach. Although some drug rehab centers use volunteers in their program, they are not usually the direct agents of change. At The Retreat, the volunteers are the primary teachers of the recovery message.
The Retreat was founded by industry professionals with long-term recovery and many years of experience in the field. The entire staff at The Retreat has a heart-felt connection to recovery. When you call our admissions office, you will get someone on the phone who knows where you are coming from because they have been there.
At The Retreat, we strive to improve the quality of life for individuals, families and communities affected by alcohol and drug dependency. Although we are not a drug treatment center, we provide a viable alternative to drug treatment and Minnesota drug rehab at a fraction of the cost.
If you are looking for drug addiction help, call us today at (866) 928.3434. Let us show you how we have recovered. If The Retreat is not the right place for you, we can recommend a Minnesota drug rehab or alcohol treatment that will better suit your needs.
The Retreat is not a replacement for medical treatment. We do not serve people who need a clinical treatment experience.