Building The Retreat's Future
The Retreat's founding principle is the idea that if people are provided a safe, supportive, and dignified environment, accurate information about the problem and solution and a solid bridge to Alcoholics Anonymous, they will recover.
Our Next Step puts this principle into practice with an ambitious plan to expand and enhance facilities and resources at The Retreat's Wayzata campus. Central to this project is the need for spaces that foster connection and inspire hope in guests, be they residential program participants, volunteers, or one of the 1,100 event attendees who visit The Retreat every month.
Phase 3 Construction
Founder's Hall and Men's Center Renovations
Phase 3 of Our Next Step will build Founder's Hall, a new, expanded community gathering space that will more comfortably accommodate ever-growing attendance at The Retreat's meetings and community events.
This phase of construction also includes important renovations in the Men's Center, including the Chapel, fitness room and meeting spaces.
Phase 3 construction will break ground upon completion of fundraising. As design and engineering work progress, renderings and updates will be posted on this page.
Phase 1 and 2 Construction
The National Center for Women's Recovery
Thanks to the support and generosity of The Retreat's community of friends and donors, Phase 1 and 2 are now complete!
The National Center for Women's Recovery, housed in the new Huss Center and the signature project of Our Next Step, opened its doors to guests in April, 2019. Already, its halls, meeting rooms, wellness and social spaces abound with the energy, connection and community that help launch life in recovery.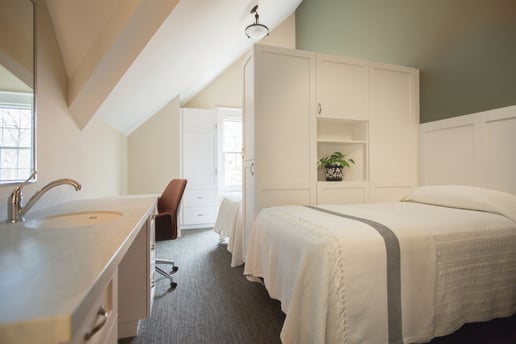 Tribute opportunities
are still available. To learn more or schedule a tour, please contact Peter Hubbard , Director of Development, at 952.476.0566.